AIR CONDITIONING (A/C) in Kelowna
MAINTENANCE TIPS
Spring has arrived here in Kelowna, now is the time to start thinking about your Air Conditioning Units.
Here in the Okanagan, it doesn't take long for summer temperatures to set in and you to run on the AC unit.
To help ensure you'll have all the cool air you want indoors, our Air Conditioning Experts have prepared a list of pre-season A/C Maintenance tips.
There's nothing worse than a broken air conditioning system during an Okanagan heat wave. Help avoid costly repairs and keep your air conditioner running at peak performance with these simple tips.
PREPARING YOUR AIR CONDITIONER FOR SPRING
Replace your System Filter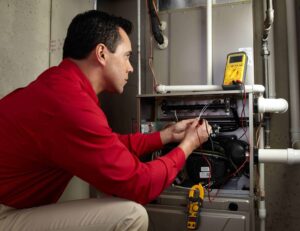 The first item you want to address is to replace the System Filer, occasionally referred to as the a/c filter. If there is any dirt or debris on your filter, it will restrict air flow and make your a/c system less efficient. Cool air travels through your home using the same duct system used by your furnace.
Please note that you your HVAC system uses the same filter for your Furnace and your Air Conditioner.
Throughout the spring and summer, be sure to check and replace your filter for maximum efficiency. Make a note to remind you about this important step, our Kelowna Air Conditioner team doesn't want you to forget.
Clean your outdoor A/C Unit
Make sure you clean your outdoor A/C Unit and the area around it. During your spring clean-up in the yard, make sure you clear your unit of any leaves, dirt or garbage.
This is important because your A/C Unit needs to bring cool air in and send hot air out; it can't do that very well with grass or garbage in the way. You want to do everything you can to make it easy for your air conditioner to do its job.
SOME SIGNS YOUR A/C MAY NEED A TUNE UP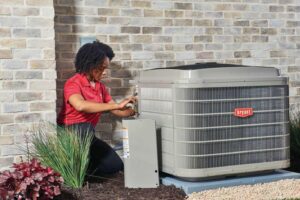 Here are some signs that your Air Conditioner may need a tune up:
If your air conditioner isn't producing enough cool air
If it is producing enough cool air in one section of you house, but not another
If you need to constant adjust the settings to keep your house cool
These are signed that it is no longer operating at peak efficiency. Call 250-470-9552 today to ensure your A/C unit is working.
VIP SAVING AGREEMENT
We also offer a VIP Saving Agreement, that provides your choice of yearly AC maintenance, furnace maintenance, heat pump service, or tankless water heater flush, which is something that manufacturers warranties require.
BOOK A TUNE-UP WITH A PROFESSIONAL TECHNICIAN
If you love having cool air inside, book your tune-up with a technician today to ensure you can continue to enjoy it.
Vision Mechanical offers Free Estimates for new A/C Units to all Kelowna, West Kelowna and Lake Country residences. If you live outside the Kelowna area, please contact us to discuss.
We have partnered with EcoHome Financial to offer you flexible monthly payment plans. Learn more about financing options for your new A/C unit here.
Call 250-470-9552 or email info@visionplumbingandheating.com to book your Air Conditioner Maintenance and ensure you are not left uncomfortably hot with a broken A/C unit