We are pleased to announce that Vision Mechanical has placed in Best of Kelowna's Top 3 in the categories of HVAC (Heating, Cooling & Ventilation) and Plumber!
We, the dedicated team at Vision Mechanical, consistently strive to exceed expectations by delivering unparalleled customer service and upholding the highest standards of workmanship. Consequently, we are immensely pleased to be acknowledged as one of the esteemed recipients of the Best of Kelowna 2023 accolade. This recognition serves as a testament to our unwavering commitment to excellence and fuels our determination to continually raise the bar in our industry.
Gold in Plumbing Category
We are elated to announce that Vision Mechanical has achieved the prestigious gold award in the Plumber category of the esteemed Best of Kelowna 2023 competition. This remarkable achievement marks our fourth consecutive victory in this category, solidifying our position as one of the premier plumbing services in Kelowna. Coupled with our silver placement in the previous year, this notable accomplishment reflects our unwavering commitment to delivering unparalleled service to our valued customers in the community. We are immensely grateful for the trust placed in us, and we are honored to continuously provide top-quality service to our esteemed customers year after year.
Plumbing Services We Offer:
Residential plumbing services
Commercial plumbing services
Emergency plumbing services
Plumbing installations
Clogged drains
Toilet & faucet leaks
Hot water heaters/tankless water heaters
Flood prevention
Kitec & Poly B Remediation
Residential Fortis plumbing rebates
And more
SILVER IN HVAC CATEGORY (HEATING, COOLING & VENTILATION)
We are delighted to share the news that Vision Mechanical has secured the esteemed second position in the highly competitive Heating, Ventilation, and Air Conditioning category of the renowned Best of Kelowna awards for 2023. This significant accomplishment is a testament to our unwavering dedication and expertise in providing top-tier HVAC services to the community. It is a great honor to be recognized as one of Kelowna's leading HVAC companies, and we are immensely grateful for the trust and support bestowed upon us by our valued customers. We remain committed to delivering excellence in the HVAC industry and will continue to strive for even greater heights in service and customer satisfaction.
HVAC Services We Offer:
Residential HVAC services
Commercial HVAC services
Emergency HVAC services
Furnace maintenance & installation
A/C maintenance & installation
Heat pumps/ductless split
Fireplaces
HVAC Fortis rebates
And more
Thank You for Your Support
We extend our sincere gratitude to our valued customers whose unwavering support has played a pivotal role in our standing as a premier provider in Kelowna. It is with profound appreciation that we acknowledge the distinction of being awarded the gold and silver positions for Plumbing and HVAC, respectively. We recognize that the success of our business is indebted to the unwavering loyalty of our esteemed customers and the exceptional community we serve. We express our heartfelt thanks to each and every individual who cast their vote in our favor.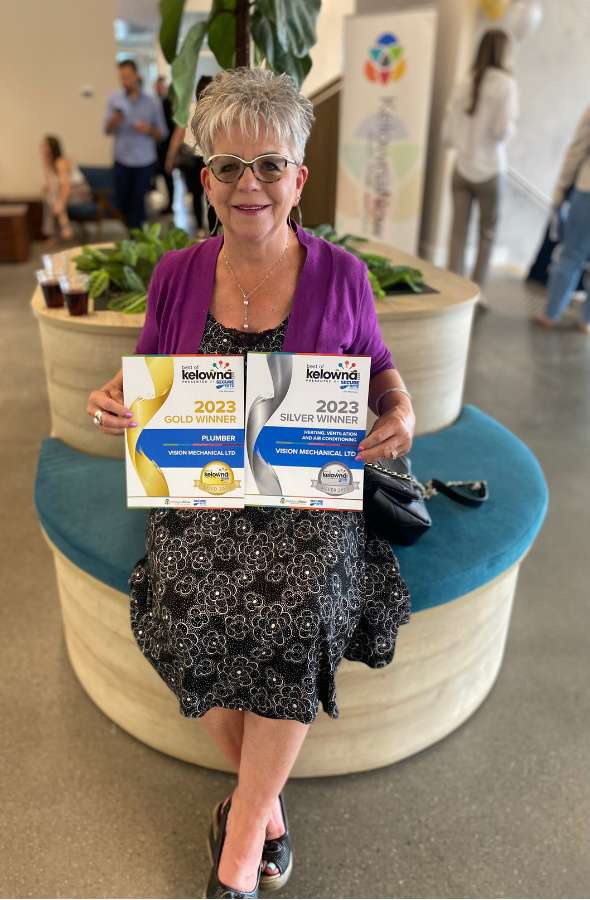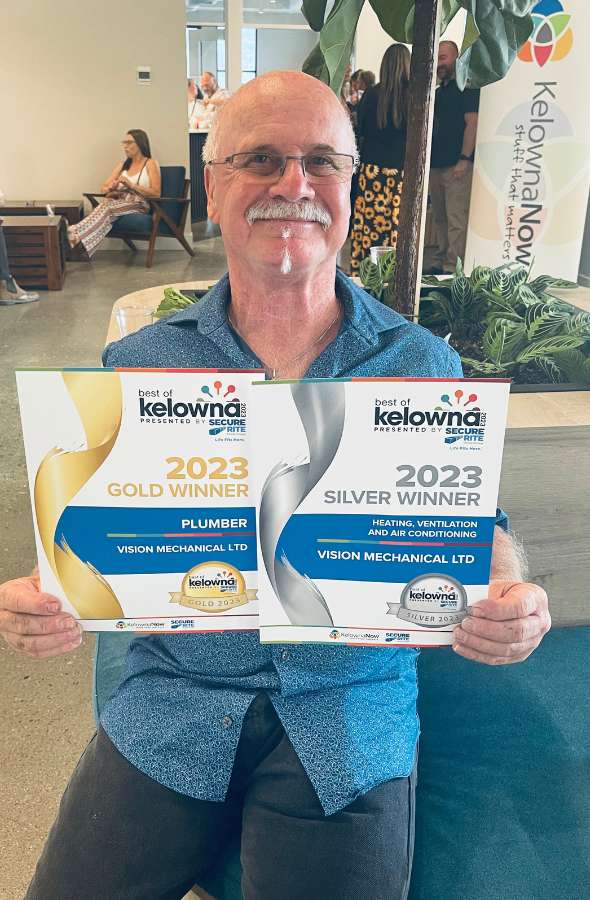 Need some Plumbing or HVAC services? We've got you covered!